ILBIJERRI THEATRE COMPANY & Te Rēhia Theatre
Black
Ties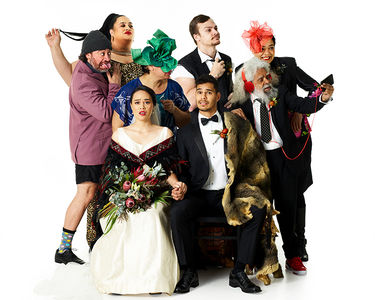 Two families, two cultures... tumeke!
When Māori corporate hotshot Hera and Aboriginal consultancy entrepreneur Kane locked eyes at a Cultural Awareness session, it was love at first sight. Ambitious and career-focused, Kane and Hera now have their perfect future all mapped out. But there is one thing they can't control… their families!
As the biggest mob of Aunties, Uncles and cousins from both sides of the ditch get worked up for the brownest wedding ever, reality is sinking in. Fast! Will this international love story bring two strong cultures together? Or will it blow Hera and Kane's world apart?
Join them for the biggest, brownest wedding ever – a hilarious, heart-warming theatre experience from award-winning ILBIJERRI Theatre Company and Te Rēhia Theatre.
With a peerless cast including Lana Garland, Laughton Kora, Brady Peeti, Uncle Jack Charles, Mark Coles Smith and Tuakoi Ohia, and created by a brilliant team of Aboriginal, Torres Strait Islander and Māori artists, BLACK TIES reimagines the popular wedding rom-com from a distinctively First Nations perspective. Set to a live score of Black anthems and wedding classics, it will be a party to remember.
Recommended for ages 12+
Contains some adult references and moderate coarse language
Watch the trailer here

Read The Guardian review here

Read the Pantograph Punch review here
Watch an interview with co-writer, co-director and actor Tainui Tukiwaho on Māori Television here
Listen to an interview with co-writer, co-director and actor Tainui Tukiwaho on RNZ National here 

We catch up with Tainui Tukiwaho and actor Tawhirangi Macpherson for a Mojo Moment here 
"Completely brilliant" – Hear what Auckland audiences said after the opening night of BLACK TIES here

Credits
Writers John Harvey & Tainui Tukiwaho
Directors Rachael Maza & Tainui Tukiwaho
Set Designer Jacob Nash
Composer and Musical Director Brendon Bone
Lighting Designer Jane Hakaraia
AV Designer James Henry
Sound Designer Laughton Kora
Costume Designer Te Ura Hoskins
Cast
Jack Charles
Mark Coles Smith
Lana Garland
Tawhirangi Macpherson
Lisa Maza
Tuakoi Ohia
Brady Peeti
Tainui Tukiwaho
Dalara Williams
Dion Williams
And a three-piece band including Brendan Boney, Mayella Dewis & Laughton Kora
Image Garth Oriander
Supported by





Auckland season presented in partnership with 



BLACK TIES was commissioned by AsiaTOPA, a joint initiative of the Sidney Myer Fund and Arts Centre Melbourne. This project has been assisted by the Australian Government's Major Festivals Initiative, managed by the Australia Council, its arts funding and advisory body, in association with the Confederation of Australian International Arts Festivals Inc., Sydney Festival, Perth Festival, Asia TOPA / Arts Centre Melbourne, New Zealand Festival of the Arts, Auckland Arts Festival, and Brisbane Festival. BLACK TIES is also supported by  The Wilin Centre for Indigenous Arts & Cultural Development | Faculty of Fine Arts and Music. ILBIJERRI Theatre Company is assisted by the Australian Government through the Australia Council, its arts funding and advisory body, and by Creative Victoria and City of Melbourne.