18 March 2020
Auckland Arts Festival Updates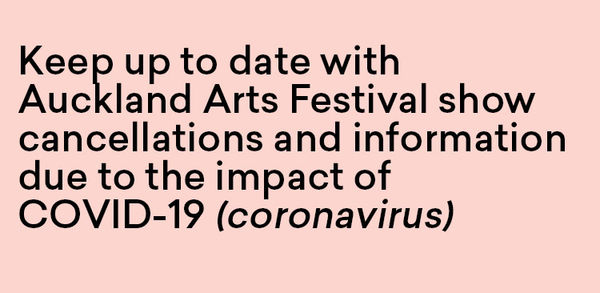 All Auckland Arts Festival shows were cancelled as a result of the impact of COVID-19 (coronavirus). Please note: Information on refunds is below
CANCELLED SHOWS
@Peace and the Plutonian Noise Symphony • 26 March • Spiegeltent by Four Points Auckland 
Babble • until 28 March • Mangere Arts Centre 
Beethoven 250 – Ludwig Reflected series • 23, 25 & 27 March • Concert Chamber, Auckland Town Hall
Biladurang • performances from 19-22 March inclusive • AVANI Auckland Metropolis Residences
Black Grace – Verses • performances from 19-29 March inclusive • various venues
Black Lover • until 4 April • Q Theatre 
Circolombia – Acéléré • 20-22 March • Aotea Centre 
Culture Vulture • 24 March • Spiegeltent by Four Points Auckland 
Dimanche • performances from 19-22 March inclusive • ASB Waterfront Theatre 
Estère: Into The Belly of Capricorn • 19 March • Spiegeltent by Four Points Auckland 
Limbo Unhinged • performances from 19-29 March inclusive • Spiegeltent by Four Points Auckland
Mouthpiece • 19-28 March • Q Theatre 
Ngā Manu Rōreka • 22 March • Spiegeltent by Four Points Auckland 
Place des Anges • 13-15 March • Auckland Domain 
Soweto Gospel Choir • 18 March • Aotea Centre 
The Curry House Kid + Dark Magic • 22 March • Academy Cinemas 
Transmission: Audio Transmission – this will be recorded and shared at a later date • 20 March • Objectspace 
Watt by Samuel Beckett • 25-29 March • ASB Waterfront Theatre 
Wolfgang's Magical Musical Circus • 20-22 March • Bruce Mason Centre 
CONCERTS CANCELLED, BUT ALTERNATIVE LIVESTREAM GOING AHEAD
Auckland Philharmonia Orchestra Beethoven 250 – Concerts
Auckland Philharmonia Orchestra's planned livestream of the Beethoven 250 concerts has been cancelled due to further impacts of the COVID-19 situation. The APO has confirmed they will instead be streaming concerts from their back catalogue. Read the media release here
Auckland Arts Festival will stream these on the website and on the AAF Facebook page /Aklfestival.
The Classicist • Saturday 21 March 7.30pm • Auckland Town Hall • Replaced by Encore Livestream 
Bruch Violin Concerto No.1 | Violin: James Ehnes | Conductor: Giordano Bellincampi
Beethoven Symphony No.6 'Pastoral' | Conductor: Douglas Boyd
The Romantic • Tuesday 24 March 7.30pm • Auckland Town Hall • Replaced by Encore Livestream
Haydn Symphony No.30 | Conductor: Giordano Bellincampi | From Bayleys Great Classics: Mozart's Jupiter (Thu 8 Nov 2018)
Schumann Symphony No.3 | Conductor: Giordano Bellincampi | From The New Zealand Herald Premier Series: Ehnes Plays Bruch (Thu 30 May 2019)

The Revolutionary • Thursday 26 March 7.30pm • Auckland Town Hall • Replaced by Encore Livestream
Gershwin An American in Paris | Conductor: Giordano Bellincampi | From Great Classics: Musical Postcards (Thu 21 Feb 2019)
Rimsky-Korsakov Scheherazade | Conductor: Xian Zhang | From Bayleys Great Classics Russian Tales  (Thu 27 Sep 2018)

The Radical• • Sunday 29 March 5.00pm • Auckland Town Hall • Replaced by Encore Livestream
Mozart Symphony No.41 | Conductor: Giordano Bellincampi | From Bayleys Great Classics Mozart's Jupiter (Thu 8 Nov 2018)
Brahms Symphony No.2 | Conductor: Giordano Bellincampi | From Bayleys Great Classic Hanslip Plays Mozart (Thu 23 Feb 2017)


POSTPONED SHOWS & EVENTS (New dates TBC)
Ōtairongo – Te Oro o Te Wāhine Māori • Thursday 19 March • Artspace Aotearoa
Black Grace – Verses • performances 19-29 March inclusive • various venues across Auckland
Ōtairongo – Rongo2  • Thursday 26 March • Artspace Aotearoa
VISUAL ARTS EXHIBITIONS CLOSED UNTIL FURTHER NOTICE
Honestly Speaking: The Word, The Body and The Internet • Auckland Art Gallery
I Extend My Arms • Digital Stage, Aotea Square
Transmission • Objectspace
Ōtairongo • Artspace Aotearoa
Queer Algorithms • Gus Fisher Gallery – some elements of exhibition available online
Safe As Houses • Vunilagi Vou
Speaking Surfaces • ST PAUL St Gallery
Split Level View Finder • Te Uru Waitākere Contemporary Gallery 
STILL ON
Chromointerference • Aotea Centre exterior
  
YOUR REFUND & DONATING TO SUPPORT THE FESTIVAL
Ticket agencies will be in contact with ticket purchasers to arrange refunds for all cancelled shows. If you bought tickets through Ticketmaster over the phone or online (including using the Auckland Arts Festival online shopping cart), your refund will automatically be credited to the credit card used. If you bought tickets at a Ticketmaster outlet, you need to submit a request form here. For more information about refunds from Ticketmaster please click here
Cancelling these shows has been a major blow for Auckland Arts Festival and the artists. Auckland Arts Festival is asking ticket holders to please consider donating part or all of the value of your ticket to support the Festival. Those who wish to donate can download the form here or email [email protected]