Audio Described Performance
Snow
White
(Touch
Tour
&
AD)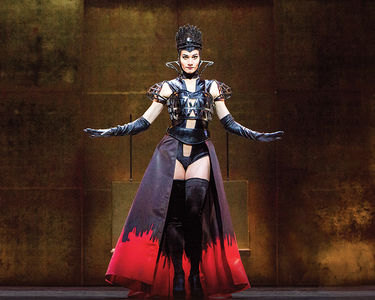 Come and experience a touch tour and the audio described performance of this darkly delectable dance work
Touch Tour & Audio Described Performance Sun 15 Mar 5.00pm
Touch Tour 3.30pm
Audio Described Performance 5.00pm
Tickets* $20 each for individual and one companion
*Subject to availability – limited number of access tickets available
Mirror, mirror on the wall, who in this land is the fairest of  all?
Ballet Preljocaj's bewitching transformation of the Brothers Grimm fairy tale is a boldly seductive global hit. Its fresh and sexy take on the timeless conflict between young Snow White and her jealous stepmother, the Queen, is both strikingly sensual and blazingly contemporary – and courtesy of costumes by the legendary fashion designer Jean Paul Gaultier, an incredible visual spectacle, too.
Masterminded by acclaimed French choreographer Angelin Preljocaj, this ravishing concoction of dance, design and wearable art has reawakened the classic story's themes of beauty and envy for a new age. Combined with towering sets and the monumental symphonies of Gustav Mahler, Snow White is dance on a truly visionary scale.
We recommend this show for 12 years and above
Contains partial nudity

Watch the trailer here 

TO BOOK
Book online using the Google booking form HERE

OR

Download and complete the booking form HERE
EMAIL the completed form to [email protected]

Phone 09 374 0320 if you would like assistance to book, transport advice or to request a companion 

"Utterly beguiling... Preljocaj's choreographic imagination steals you over." The Guardian
"Preljocaj's choreography took my breath away." The Washington Post
"Snow White is spectacular… [It] will change the way you view this classic fairy tale." Australian Stage
"Deliciously dark… modern and gripping, Ballet Preljocaj's Snow White is a must-see production." Limelight
Credits
Choreographer Angelin Preljocaj
Music Gustav Mahler
Costumes Jean Paul Gaultier
Set Design  Thierry Leproust
Images
Yang Wang (hero image)
Jean-Claude Carbonne
Supported by