RESOURCES FOR LOW VISION / BLIND PEOPLE
Watt
by
Samuel
Beckett
(Blind
&
Low
Vision)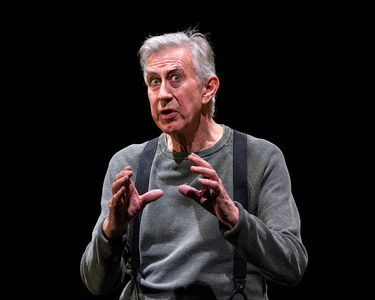 Due to COVID-19 impacts, all performances of Watt by Samuel Beckett have been cancelled.
The performer, Barry McGovern, and the crew for Watt by Samuel Beckett were due to arrive in New Zealand after midnight on Sunday 15 March when the border control measures took effect leaving Auckland Arts Festival with no choice but to cancel the season. Access ticketholders will be contacted by the AAF team will be in touch to arrange refunds.
If you have any queries, please contact: Alex Lodge • Phone 09 374 0320 or email [email protected]
Irish actor and legendary Samuel Beckett expert Barry McGovern performs his exceptional stage adaptation of the novel Watt for the first time in New Zealand.
Arriving in the countryside, Watt begins a slow, existential trek to the home of Mr Knott. But how will this itinerant manservant cope when he reaches the residence of his unseen employer, with a confounding list of duties and a collection of extraordinary characters

The great Barry McGovern has received acclaim around the globe for his one-man performance since 2010, and it remains among the finest, funniest and most popular Beckett interpretations ever. Capturing the essence of the writer's dark worldview while amplifying his scintillating humour and wordplay, Watt will have you in raptures contemplating the absurdity of life – and discovering there's so much more to Beckett on stage than Waiting for Godot.




"Anyone who cares about acting should seize the chance to see McGovern perform. "  The Age
"It's marvellous theatre and, strangely for Beckett, you leave with warmth in your soul."  Sunday Independent
"Watt is a dramatic masterpiece. Acting does not get better than this, theatre does not get better than this." The Saturday Paper
"So enthralling you don't want it to end." Sydney Morning Herald
"Singular, stealthy and distinguished." The Guardian
★★★★★ A gripping, truthful play for our times. The Stage (UK)
★★★★★ Visceral, emotional and totally involving… Extraordinary theatre. BritishTheatre.com
★★★★★ Magnificent. Brilliantly acted and tautly directed. Sunday Times (UK)
★★★★ A play that wrestles fiercely and brilliantly with the dilemmas faced by serious artists in a bitterly divided society… Tense and unforgettable. The Scotsman
Credits
Adapted by Barry McGovern
Director Tom Creed
Set and Lighting Design Sinéad Mckenna
Costume Design Joan O'Clery
Image Pia Johnson
Supported by




THE CITY OF EDINBURGH COUNCIL