Kereama Taepa
Transmission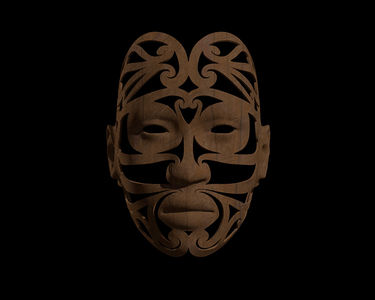 Due to the impact of COVID_19, Objectspace is closed.

Transmission is a major exhibition by award-winning, multidisciplinary artist Kereama Taepa.
Taepa's practice demonstrates the long tradition of innovation within te ao Māori. His use of virtual reality and 3D printing has infused whakairo (carving) with new modes of address, interaction and portability that extends from the gallery walls to everyday dress.
Transmission explores the infinite possibilities of digital technologies to transmit mātauranga Māori. Taepa considers digital technologies beyond their immediate application, locating them within Māori paradigms that simultaneously connect to stories and offers space to embed personal narratives as a way forward into the future.
Transmission runs Thursday 12 March to Sunday 3 May


Extra Event CANCELLED
Audio Transmission – a music performance in response to Transmission featuring Horomona Horo and Waimihi Hotere
Friday 20 March 7.00pm
Ockham Gallery, Objectspace
FREE
Unfortunately due to the Government's border control measures introduced on Monday 16 March. Māmā Mihirangi is no longer able to perform in this concert.
Further Update: This extra event has now been CANCELLED due to recommendations to implement stringent social distancing. A performance by Horomona Horo is being recorded and will be shared online
Two celebrated Maori musicians will fill the gallery with layered soundscapes, weaving together different elements of soundmaking, each connecting and expanding their unique methods of performing. This will be a journey through harmony, melody and beats, incorporating taonga pūoro, waiata and live loops. The artists will progressively build the aural experience to create an immersive sensory encounter.
Horomona Horo Composer, practitioner and cross genre collaborator, Horomona Horo has fused the traditional instruments of Maori, taonga pūoro within a diverse range of cultural and musical forms.  
Waimihi Hotere A celebrated vocalist, Waimihi Hotere uses sound memories to build vocal scales and soundscapes for audiences to connect with te ao Māori (a Māori perspective) and the land.
 

Credits

Image Kereama Taepa, Untitled, 2019