@Peace
and
the
Plutonian
Noise
Symphony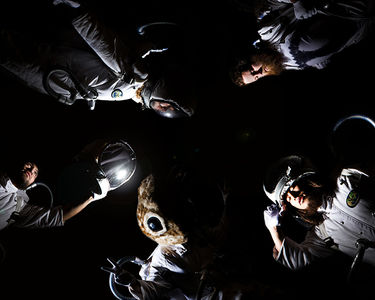 Due to the impact of COVID-19, this performance has been cancelled.
Six years on from the creation of New Zealand cult classic album @Peace and the Plutonian Noise Symphony, @Peace reunites for a special one-off live performance.
Back in 2014, Tom Scott (Home Brew) with Lui Tuiasau on vocals, and a musical soundscape laid down by Christoph El Truento, Hayden 'Dandruff' Dicky and Brandon Haru as @Peace, released their first and only full-length album. @Peace and the Plutonian Noise Symphony was a critically acclaimed modern masterpiece that broke boundaries, but also broke the group up. The album, founded on the fear of finality, was ironically their last.
Now they are reuniting to bring to Auckland Arts Festival a 2020 reinterpretation of the Taite Prize-nominated opus in its entirety, accompanied by special musical guests including Riki Gooch (Trinity Roots) on drums, with visuals by Tomek Bogdanowicz and lighting by Brad Gledhill.
 The live show promises to reflect the album: a gumbo of existential sci-fi psychedelia inspired by Sun Ra, Pink Floyd, Can and Funkadelic, while expanding on where they left off. Performed in the Spiegeltent, this one-off show is a must for music lovers and sci-fi nerds.

@Peace on stage at 9.30pm
This is a standing concert. Limited seating will be available.
Listen to an interview with Tom Scott on RNZ National about the reuniting of @Peace here

Credits

Featuring
Tom Scott
Lui Tuiasau 
Christoph El Truento
Hayden 'Dandruff' Dicky
Brandon Haru
Riki Gooch
Visuals Tomek Bogdanowicz
Lighting Brad Gledhill