School Tickets
Dimanche
(Schools)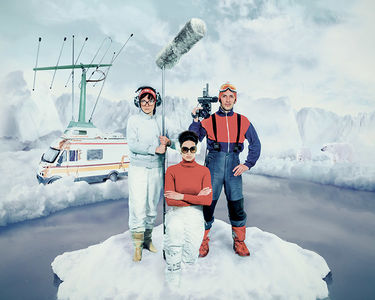 Due to the impact of COVID-19 all further performances of Dimanche have been cancelled effective from Thursday 19 March

A family battles extreme weather and intrepid filmmakers brave the Arctic wilds in this ingenious, visually-inspired portrait of humanity at the mercy of Mother Nature.

An ordinary family is about to spend their Sunday together. But the walls are shaking, strong winds and torrential rain rage outside and the storm has only just begun. Meanwhile, somewhere near the North Pole, three wildlife reporters are doing their best to document the apocalypse by filming the Earth's last living species: three wild animals on the brink of extinction.
From physical theatre trailblazers Chaliwaté and Focus – a Belgian collaboration uniting the talents of brilliant puppeteers and technical geniuses of the stage – Dimanche is a pure gem of visual and storytelling imagination. Centred on the planet's climate change crisis, this meticulously detailed show stirs emotion and wonder in equal measure, as performers guide intricate miniatures and lifelike puppets through richly cinematic sets to evoke a world in peril.
Developed from the award-winning Backup (Total Theatre Award for Physical & Visual Theatre, Edinburgh Fringe 2018), the newly commissioned Dimanche is a gorgeous piece of theatre wizardry, and a witty reminder to heed the warning signs of global warming.
Recommended for ages 9+


School Tickets
Suits Year 7–13 Drama students
Date Wednesday 18 & Thursday 19 March 8.00pm
Tickets $15 One teacher free per 10 students booked
Venue ASB Waterfront Theatre
BOOK HERE

A jewel of creativity and humour Le Suricate Magazine (France, on Backup)
Credits

Writers & Directors Julie Tenret, Sicaire Durieux, Sandrine Heyraud
Dramaturg Alana Osbourne
Lighting Guillaume Toussaint Fromentin 
Sound Brice Cannavo
Costumes Fanny Boizard
Scenography Zoé Tenret
Stage Set Construction Zoé Tenret, Bruno Mortaignie (LS Diffusion), Sébastien Boucherit and Sebastien Munck 
Puppet Creators Waw ! Studios / Joachim Jannin
Puppet Assistant Creators Jean-Raymond Brassinne, Emmanuel Chessa, Aurélie Deloche and Gaëlle Marras
Videography Tristan Galand 
Underwater Filming Alexandra Brixy 
Video Set Construction Zoé Tenret and Sébastien Munck
Stage Management Leonard Clarys with Isabelle Derr or Guillaume Toussaint Fromentin.

Image  Tristan Galand & Atelier Design (house image) Yves Kerstius (snow image)
A show by companies Focus & Chaliwaté. Co-produced with Le Théâtre les Tanneurs, Le Théâtre de Namur, La Maison de la Culture de Tournai/Maison de la Création, Le Sablier – IFS (France), Arts and Ideas New Haven (USA), Adelaide Festival (Australia), Auckland Arts Festival (NZ) and the Coop ASBL | Produced by Le Théâtre les Tanneurs. An Associate Production of Du Théâtre de Namur and La Maison de la Culture de Tournai/Maison de la Création | With the support of La Fédération Wallonie-Bruxelles – Service du cirque, des Arts Forains et de la Rue, De Wallonie Bruxelles International (WBI), De La Bourse du Capt, de la Commission Communautaire Française, De Shelterprod, Du Taxshelter.be, Ing and Du Tax-Shelter du Gouvernement Fédéral Belge | With thanks to Escale Du Nord – Centre Culturel D'Anderlecht, Centre de la Marionnette de Tornai, La Roseraie, Latitude 50 - Pôles des Arts Du Cirque et de la Rue, Espace Catastrophe, Centre Culturel Jacques Franck, Maison de la Culture Famenne-Ardennes, Centre Culturel D'Eupen, La Venerie, Le Centre Culturel de Braine L'Alleud, Le Royal Festival de Spa, Le Théâtre Marni. L'Escaut, Bronks, Ad Lib Diffusion, Ad Lib Production: Residencies at Au Libitum, Lookin' Out and Le Festival XS.