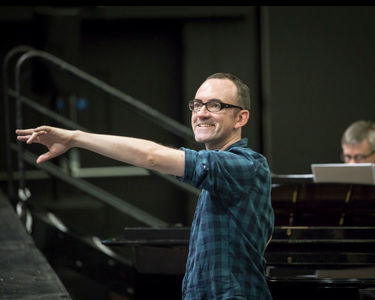 Due to the impact of COVID-19, this workshop with Tom Creed has been cancelled
Tom was coming to New Zealand with Watt by Samuel Beckett and was due to arrive in New Zealand after midnight on Sunday 15 March when the border control measures took effect leaving Auckland Arts Festival with no choice but to cancel the season, and this workshop.
In this session with Tom Creed participants will be introduced to his approach as a director, with particular focus on the adaption and staging of Watt by Samuel Beckett. Tom will share strategies he has used to create a range of different theatre and opera productions, including work with designers in advance of rehearsals, and with the actors in the rehearsal room.
Tom is a theatre and opera director, festival director and independent producer based in Dublin.
His extensive work as a theatre director over the past 10 years includes productions for the Abbey Theatre, Gate Theatre, Rough Magic, Thisispopbaby, his own company Playgroup and a range of independent Irish companies, which have played in Ireland, the UK, Europe and the USA. He was nominated for Best Director in the Irish Times Theatre Awards in 2007.
Workshop Details
Date Saturday 28 March 10.30am - 12.00pm
Venue Villa Maria Gallery, ASB Waterfront Theatre
Cost $20 per participant
Entry strictly by application. This workshop is targeted at tertiary and industry level emerging directors.
Please apply HERE. Places are strictly limited. Successful applicants will be notified by Wednesday 11 March.
For all enquiries, please contact
Amy Turner: Programme Coordinator - Creative Learning
Email Amy or phone 09 374 0339