2 April 2020
A Message from Chief Executive David Inns
Looking back on Auckland Arts Festival 2020 and looking forward to the future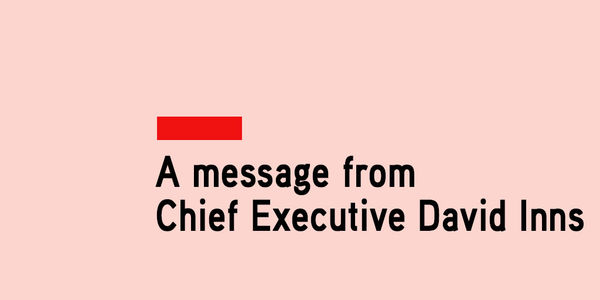 On Sunday 29 March we should have been celebrating the final day of Auckland Arts Festival 2020, instead, like other New Zealanders, our artists, staff and crew were in lockdown in their homes.
What was to be a 19-day Festival, and the third Festival programmed by Artistic Director Jonathan Bielski, came to an abrupt halt due to the impacts of COVID-19 (coronavirus), but for eight fantastic days Auckland Arts Festival brought world-class dance, theatre, music, cabaret and circus to Auckland city.
The Festival opened as planned on Wednesday 11 March with 2000 people joining us in Aotea Square for our free opening event Tira and, in the following days, at shows including Ballet Preljocaj's stunning Snow White, homegrown rom-com Black Ties, the mind-blowing Cold Blood, Los Angeles Master Chorale in a spine-tingling performance of Lagrime di San Pietro, circus-cabaret Limbo Unhinged, and the moving world premiere of Ka Pō, Ka Waiata: Songs in Darkness.
On Thursday 19 March, the Festival ended with all shows cancelled and a mammoth task to get artists and crew home to their loved ones around the world, and clear the sites. More than 80 shows were cancelled – some partway through their seasons, while others did not get to open at all – alongside all the exhibitions in the Visual Arts programme.

Even before the Festival's opening day, we stayed abreast of the constantly changing environment as international travel and freight impacted on shows.
The health and welfare of artists, staff, crew, and audience members was always to the fore and we worked with venues to ensure additional cleaning and sanitising of venues. As things changed we placed limits on capacity in the Spiegeltent, cancelled shows due to border control measures and public gathering limits, and put in seat numbering in general admission venues including the Spiegeltent and the Concert Chamber to enable contact tracing if required.
As international borders closed and flights were cancelled, we prioritised travel arrangements for international artists and managed to get all artists safely back to their home countries ahead of the lockdown.
As the country headed towards lockdown, we faced the task of dismantling and packing away the Spiegeltent and clearing the Aotea Square site.
The production team worked incredibly hard to clear the site in record time and we'd like to say a big 'thank you' to other members of the arts community and our staff who came down to Aotea Square to help.
The Festival's full-time staff and those finishing their contracts are now working remotely and exploring options to work with artists, arts companies, and those working in the arts sector.
The impact for the Festival is unprecedented and so much is unknown about the future of the arts sector. As we finish working through the immediate affects, we are also looking to the future and working with stakeholders on the shape of Auckland Arts Festival in the future.
Artistic Director Shona McCullagh, alongside the Executive Team and the Auckland Festival Trust Board, is looking at new and innovative ways to present future festivals. There's no doubt things will be different, but at the fore will be our partnerships with artists, our colleagues and the whole community. We remain committed to the future development of New Zealand's vibrant arts sector.
We would like to thank the many people who have supported us in the past and now as we head into the future, in particular our core funders Auckland Council and Creative New Zealand, our major funders, sponsors, patrons, artists, venues, the wider arts community and our audiences.
In this unusual and uncertain time, keep your family and whānau safe and healthy.
Ahakoa he iti he pounamu – Although it was small, it was precious.

DONATING TO SUPPORT THE FESTIVAL
Cancelling more than 80 shows and events has been a major blow for Auckland Arts Festival and the artists. Auckland Arts Festival is asking ticket holders to please consider donating part or all of the value of your ticket to support the Festival. Those who wish to donate can click here or email [email protected]